Just 35 kilometres from Florence, a handsomely refurbished ancient country house surrounded by olive orchards, woods and vineyards has been the home of Casa Cares for over thirty years.
This sounds almost like a fairy tale and, in a certain sense, it is a beautiful way to open this true story.
The foundations of Villa I Graffi, by now an inseparable component of Casa Cares, sink deep into the fertile earth on the slopes of the Pratomagno ridge, offering splendid views of the Arno river valley and the Chianti hills.
Casa Cares, one of the Waldensian guesthouses, is hosted in this villa, surrounded by the farming terraces that spread out across the hills with:
700 olive trees that yield extraordinary extra virgin olive oil
an organic vegetable garden that provides fresh local produce to our kitchen all year round to delight our guests
aromatic and medicinal herbs
an orchard with some forty trees of ancient and local varieties of fruits
a wooded area that provides firewood for the fireplaces in the villa and the adjacent farmhouse
a poultry pen
many comfortable stopping points in the country side where visitors can relax and recharge their batteries while contemplating the landscape of Tuscany. Yes, those views that are so famous around the world.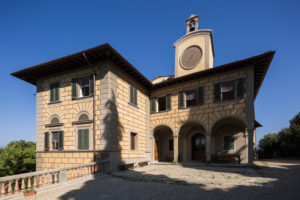 This captivating place is an ideal starting point for excursions to protected natural areas such as "Le Balze", the "Foresta di Sant'Antonio" and the "Riserva di Vallombrosa".
Casa Cares opens its doors to anyone: families, singles, couples and groups.
In particular, groups looking for a quiet place to inspire positive thinking while favouring concentration, meditation, unity and sharing will find here their ideal temporary location.
Our guests include translation, yoga, shiatsu and art schools as well as orchestras and choirs. Casa Cares also boasts a lovely theatre in the former chapel of the villa. Courses and meetings are held at these premises in a friendly atmosphere where we also welcome groups of friends to celebrate a wedding or an anniversary, or simply to amuse themselves in close contact with such unspoilt natural surroundings.
As well as for all the Waldensian hotels and lodges, the activities at Casa Cares are not for profit but they are conducted to sustain the projects of social interest promoted by the Diaconia Valdese.
In recent years, the structure has hosted refugees and asylum seekers who arrived in Italy thanks to the humanitarian corridors organized by the Mediterranean Hope project.
Casa Cares relies on volunteers for the daily management of the workload. They support a close-knit and motivated staff, thus guaranteeing excellent service.
Casa Cares has 11 rooms (for 2 to 5 guests) with private bathrooms and 8 rooms (for 2 to 4 guests) with shared bathrooms for two or three rooms, for a total capacity of 58 guests. There are also two apartments in the farmhouse mentioned above, to accommodate an additional 15 guests.
Common spaces are available for group activities.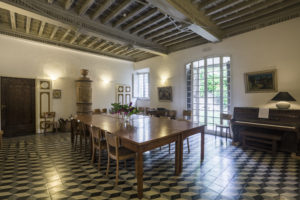 As the saying goes, a picture is worth a thousand words, thus we have prepared a preview of the latest video shot at Casa Cares for you. Just to give you a taste of what can become the leitmotiv of your next stay in Tuscany.