It happens often enough that everyday life makes us wish for an escape, a quiet place where we can recharge and find our own peace. This trend to take care of ourselves is moving more and more toward the splendid hills of Tuscany, places of peace and pure beauty that are ideal locations for organizing events and seminars for groups.
It is not always easy to find the right place to meet with a group of friends or to organize a specific event such as spiritual meetings, meditation and yoga, company workshops and work groups, study groups and in-depth analysis or other similar circumstances. Natural surroundings, far from distractions and negative vibes: this is what is needed. The search for the right space for groups, means that beyond the spiritual aspect and the beauty of the landscape, it must also offer all the necessary comforts to make guests feel at home, so that they will relax and enjoy their days of holiday, taking it easy far from their daily issues. Don't despair, all of this is possible at Casa Cares!
At our holiday house in Reggello, not far from Florence in Tuscany, surrounded by vineyards, olive orchards and woods, we welcome groups looking for a place set in natural surroundings that welcomes them with many common areas where they can express their passions and interests in an easy going and relaxed atmosphere.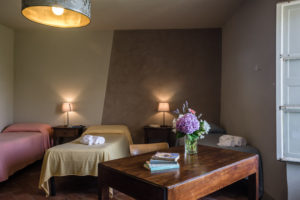 At Casa Cares, during the course of the year, yoga lessons, music seminars, and meetings of counsellors at American universities who alternate their studies with excursions around Tuscany, are held in the large space of the theatre; there are sculptors who meet in the garden to chip away at the blocks of marble that hide their works of art, while opera singers, team building groups, circus artists and painters gather in a large bright room full of palettes and colours. There are also seminars of psychotherapy or translation or friends who decide to get together in this large house that is something like grandma's house, where they enjoy good cooking with the products of our vegetable garden – from farm to fork right on the premises.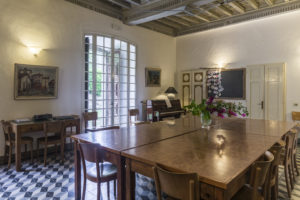 The volleyball court, the sitting rooms with fireplaces, the garden, the space in the old building of the olive press, the library… Each person can choose the space that best suits their mood so it is easy to find the right atmosphere to develop their interests with activities that refresh the body and the mind.Occasionally, walking through the house, you may hear the notes of a melody from the piano and then realize a guest is playing a little extemporaneous sonata, while you catch a glimpse of a magical sunset through the window.
If you are looking for your space for groups, events and seminars in Tuscany, a peaceful place where you can organize yoga or spiritual retreats and many other activities, Casa Cares in the Tuscan hills near Florence is just the place for you!
If you'd like to join us, visit our website and contact us at:
info@casacares.it
www.casacares.it
Come here and take some time off to relax your mind!
Thank you to Riforma.it for the beautiful article about us!